OLIVER DESIGN CONCLUDES INTERIOR OUTFITTING OF THE "NORWEGIAN GANNET", AN INNOVATING TRANSPORT AND PROCESSING SHIP FOR FARMED SALMON THAT SETS A NEW STANDARD IN WORKING VESSELSThe ship's interiors cover a total floor area of 2,000 square metres across five decks. The owners have demanded high standards of comfort in all areas, setting a benchmark for the industry
The Norwegian Gannet is a salmon transport and processing ship, 94 metres long and 18 in the beam with a GRT of 4,000 tonnes, which onboard innovations in logistics and energy make it a landmark in the development of aquaculture

Over nine months, Oliver Design has invested around 60,000 hours in a project involving up to 40 workers

The ship's interiors cover a total floor area of 2,000 square metres across five decks. The owners have demanded high standards of comfort in all areas, setting a benchmark for the industry

With a crew of 53 and capacity to process 150,000 tonnes of fish per year, the ship's interiors are on a par with many hotels, boasting lounges, a cinema and a gym, complete with sauna, for the crew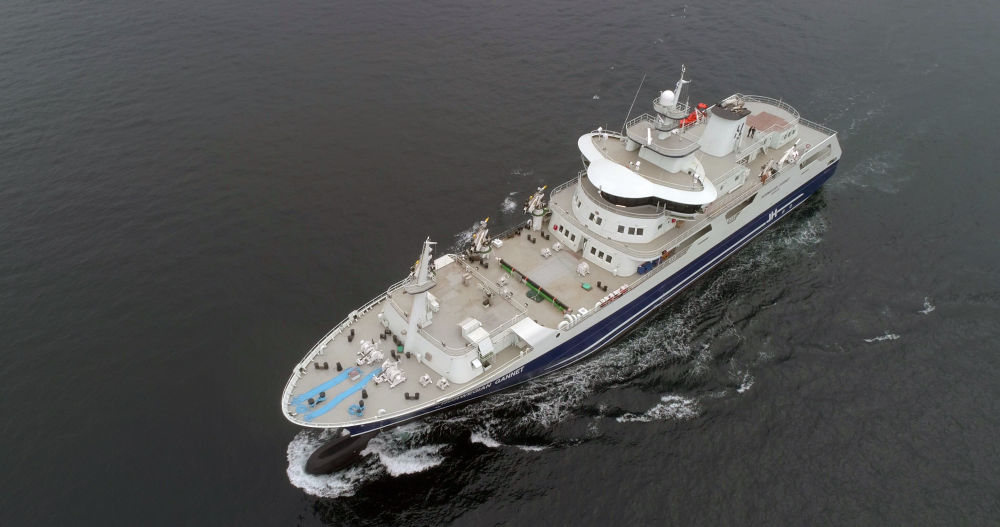 Image: courtesy Balenciaga shipyard.
Bilbao, november 10, 2018
Oliver Design,based in Getxo (Spain) specialises in naval design and architecture. It has just completed outfittingof the "Norwegian Gannet", an innovating salmon transport and processing ship, constructed at the Astilleros BalenciagaS.A.shipyard in Zumaya, where it has taken charge of interior design. The new ship will be a benchmark in Northern European aquaculture,with groundbreaking innovations in logistics and energy; however it also sets new international standards in working vessels, with extremely high levels of crew comfort.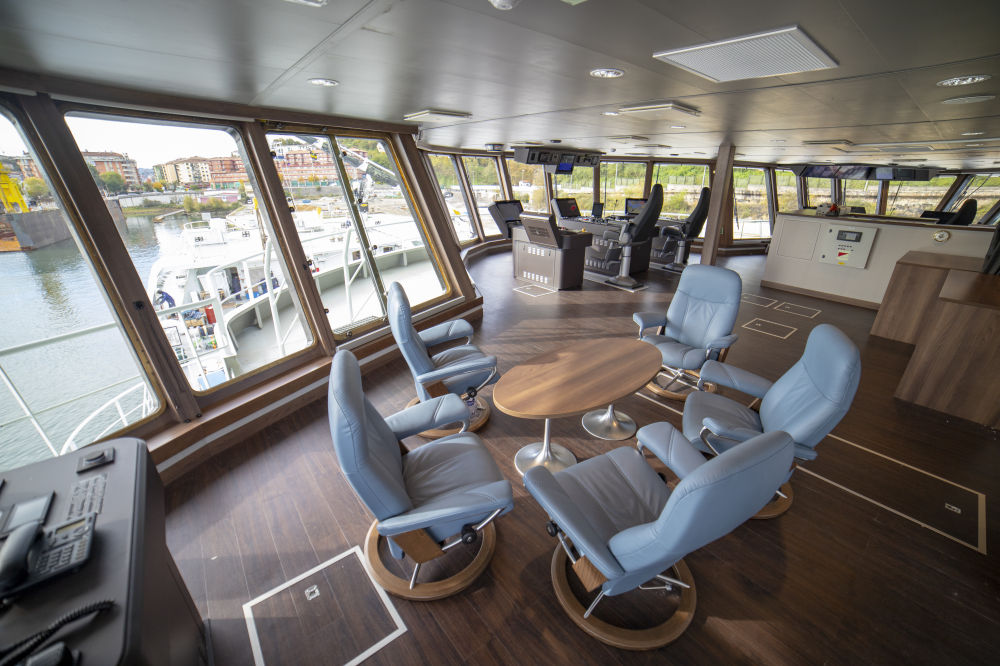 Bridge.                                                                   Image: courtesy Balenciaga shipyard
The ship set sail on 10 November from Pasajes (Spain) for its new home in the Norwegian port of Bergen, where it is due to arrive on 16 November. Such is the significance of this innovating vessel that a public presentation has been organised for Saturday 17 November. The ceremony is due to be attended by representatives of the Norwegian government, ship owners, potential customers and collaborators.
Outfitting began in February of 2018 and since then, staff from Oliver Design have put around 60,000 hours of workinto the project. Over the nine-month period, the company has kept an average of 25 workers (in-house and subcontracted staff) permanently on site at the Balenciaga facilities, peaking at around 40.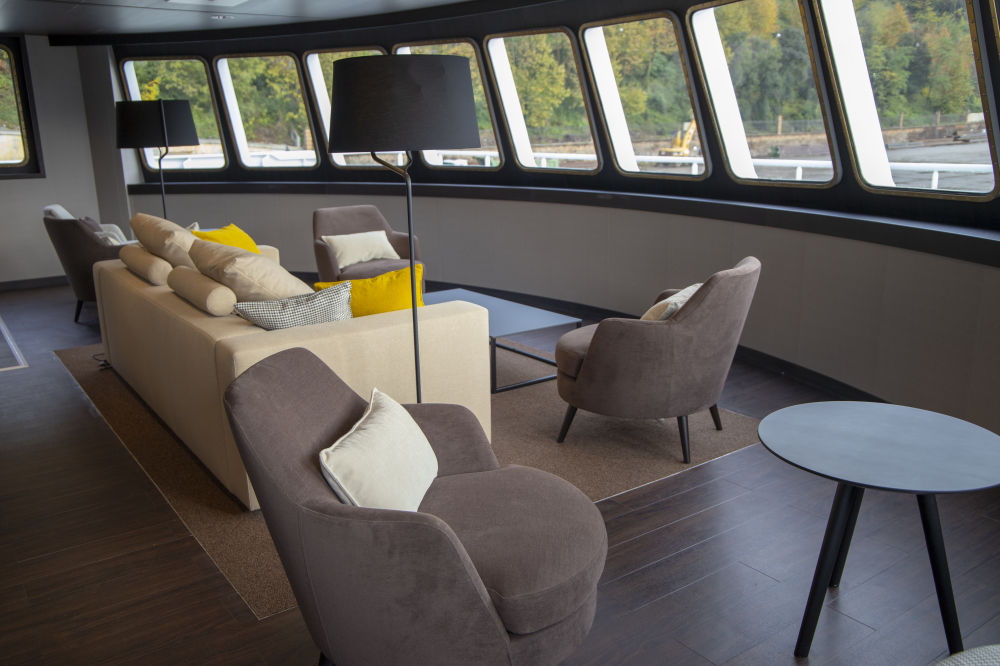 Conference Room                                   Image: courtesy Balenciaga shipyard.
The interiors of the vessel cover a total floor area of 2,000 square metres across five decks. The high levels of comfortthe owners have demanded in all areas will set a new benchmark for the industry. As Oliver Design's CEO, Iñigo Oliver, explains: "the Norwegian shipping company Hav Line Vessel ASasked us for a particularly outstanding design. They wanted to do something really innovating in terms of the standards of crew comfort, and the interiors are more like a modern city hotel than a working ship".
Crew on board the "Norwegian Gannet" will enjoy Nordic-style furniture; sturdy decorative flooring –including carpets and porcelain tiling– and clad bulkheads and lining with textured finishes. A demanding procedure of insulation against noise and vibration will ensure the highest levels of acoustic comfort. Other features include LEDs in wall-lights, lamps and cornice lighting, and relax-type couches and armchairs. The vessel boasts double and single cabins for the crew, a spacious mess room, lounges, changing rooms, a gym with a sauna and a cinema, which can double as a meeting room.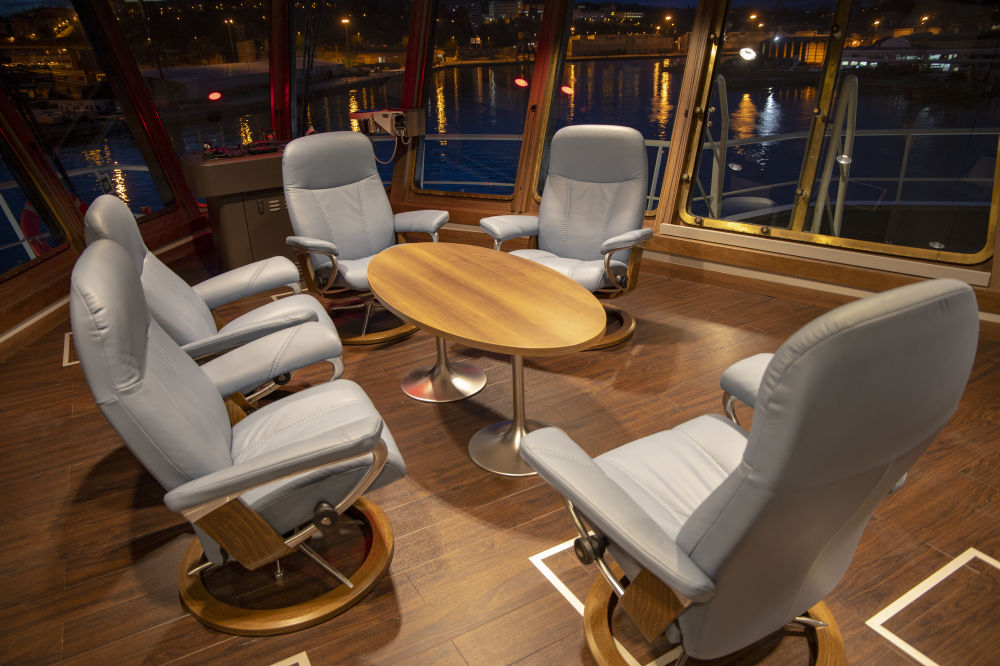 Bridge at night                                                                  Image: courtesy Balenciaga shipyard
The B deck also contains an impeccably decorated conference room, complete with bar and recreation area for the crew, which can also be used as a reception area for potential clients and distributors. The salmon processed on board the "Norwegian Gannet" will mostly be sold on Asian markets.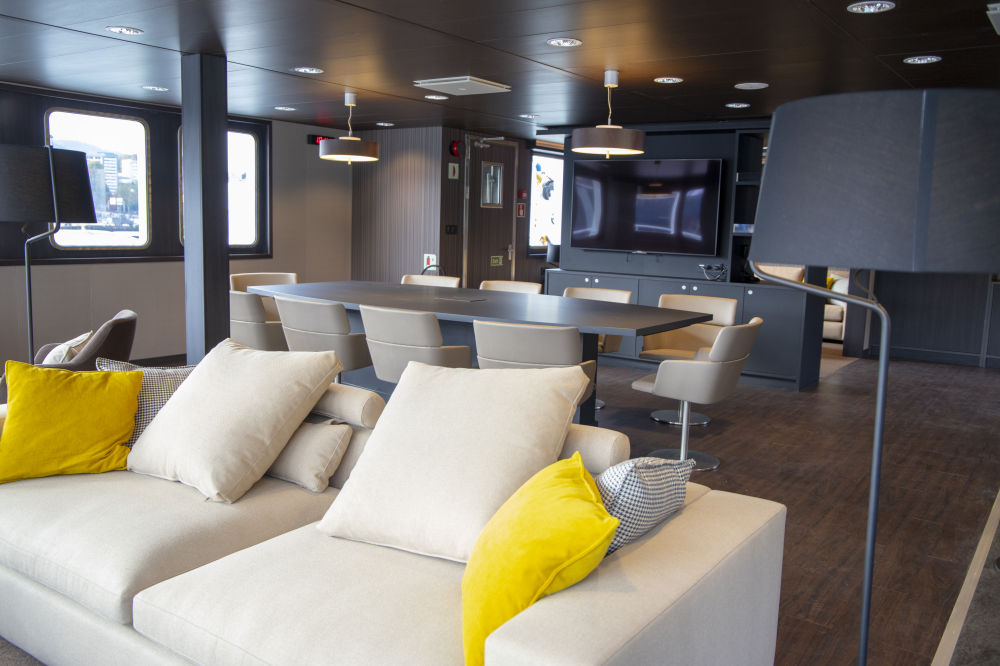 Conference Room                                   Image: courtesy Balenciaga shipyard.
As well as the crew's living quarters, Oliver Design has also fitted out the bridgeand some of the fish processing facilities, including high-quality insulation and cladding for storage and processing areas and fish bins.Fish processing areas required careful sealing with fibreglass panels,together with other insulation to ensure maximum hygiene in all operations. Given the limitations on space, installation of these elements was particularly complicated.
Other areas include a machine and control room, workshop, galley, laundry, infirmary, office and the disinfection zoneadjoining the processing plant. All facilities have been designed for the extreme weather conditionstypical in the North Sea, where the "Norwegian Gannet" will operate.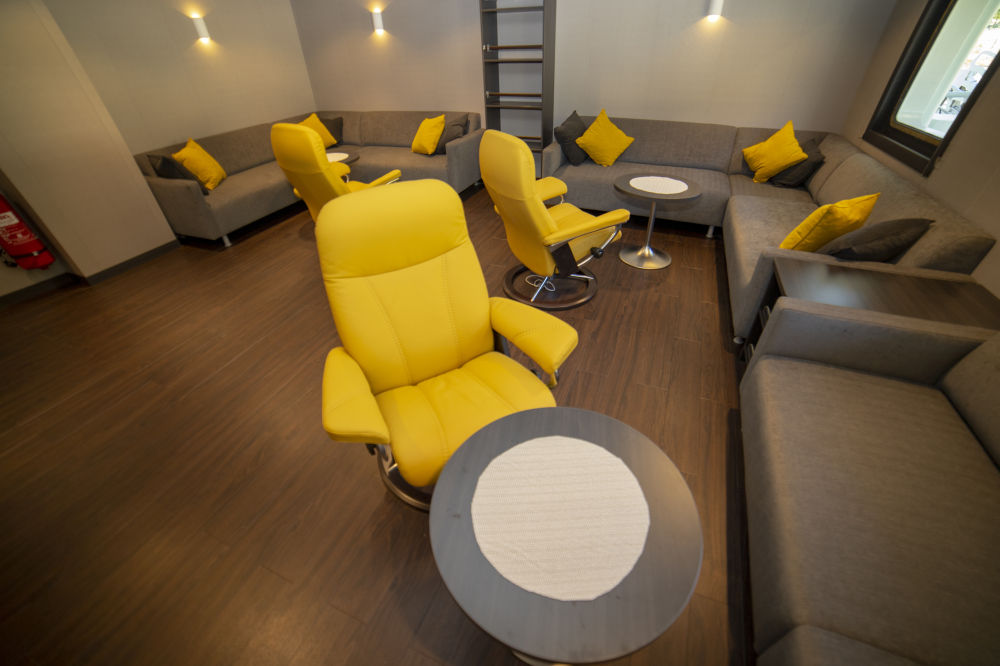 Crew Lounge                                   Image: courtesy Balenciaga shipyard.
A new procedure for fishing, processing and transport
The Norwegian Gannetis a salmon transport and processing vessel, 94 metres long and 18 in the beam with a gross registered tonnage of 4,000 tonnes. It boasts groundbreaking innovations in onboard logistics and energy use. With a crew of 53, it is capable of processing150,000 tonnes of fish per year(1,000 tonnes of salmon on each voyage).
The pioneering design include a number of highly unusual characteristics. It reflects a new concept in aquaculture, as operators look for better and more efficient designs to reduce operating costs and minimise environmental impact. The company has developed a vessel capable of processing and freezing salmon harvested from pens on the west coast of Norway and transporting it to the Danish port of Hirtshals, where it will be sorted and packed. The result is a substantial reduction in time-to-market and carbon footprint. Each delivery will take the place of around 50 container trucks. In addition, the vessel will be fitted with the world's first hybrid battery-supported diesel propulsion system, manufactured by Finnish company Wärtsilä, substantially reducing the overall emissions of the process.
*For a simulation of the procedure, please see:https://youtu.be/4t9jjTXDqk4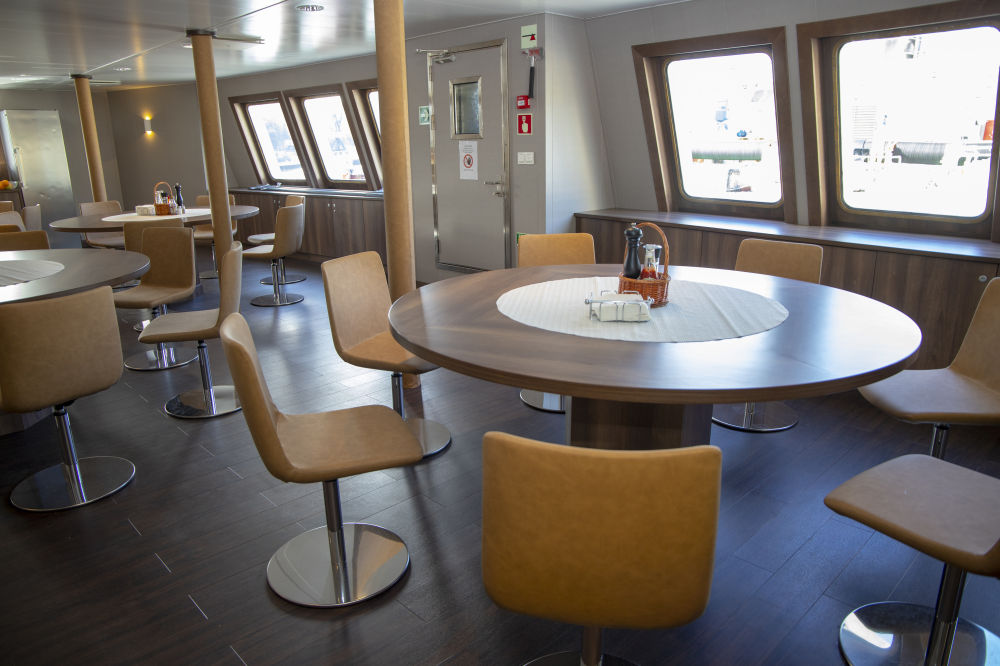 Crew Messroom                                   Image: courtesy Balenciaga shipyard.
First collaboration between Oliver Design and Balenciaga
The contract for construction and interior outfitting of the "Norwegian Gannet"marks the first time these two Spanish leaders in their respective fields have worked together: the Balenciaga shipyard, founded in 1921 and Oliver Design, set up in 1990. The Norwegian ship owners awarded Balenciaga the contract for construction of the vessel (the largest built to date at the shipyard). Balenciaga in turn subcontracted turnkey design and outfitting of the interiors on board the ship to Oliver Design. Coordination between them and other subcontractors has been highly successful, with the two Spanish companies bringing added value from a technical and aesthetic perspective.