OLIVER DESIGN COMPLETES TURNKEY PROJECT FOR FITTING OUT AND INTERIOR DESIGN OF THE "TEXELSTROOM" FERRY, BUILT FOR DUTCH SHIPOWNER TESO
The Basque naval design and architecture firm has spent over a year and a half to the contract, employing over a hundred staff from different specialities
Based on an avant-garde design by Dutch firm Vripack, OLIVER DESIGN has drawn up the construction drawings for all passenger and crew areas, adapting them to the rigorous shipbuilding requirements
As well as using new materials and installing 100% custom-built furniture, the passenger area boasts an imaginative design, inspired by the flora and fauna of the Dutch coast where the ferry will operate
Some of the most original features include a crèche area designed to simulate a sandy beach, backlit decorative panels featuring local bird life and a large artificial tree in one of the galleries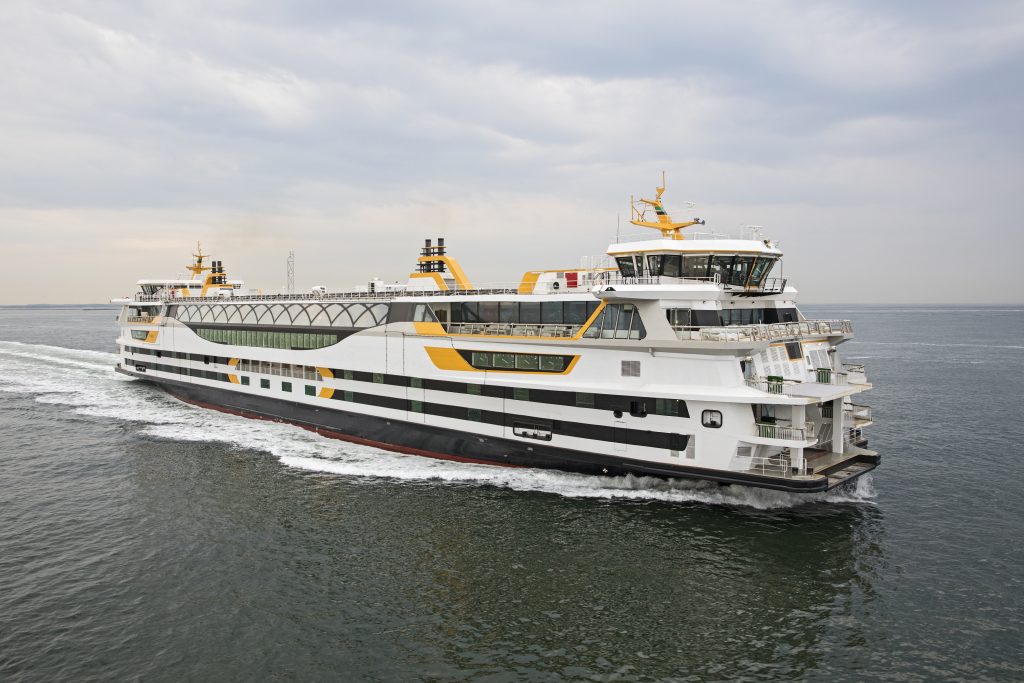 Bilbao, April 12th 2016.- OLIVER DESIGN, based in Getxo (Basque Country, Spain), which specialises in naval design and architecture, has just completed a turnkey project to fit out and design the interior of the "Texelstroom", a ferry built for Dutch ship-owner TESO at the Spanish shipyard La Naval. Over the coming days, the vessel will leave for Den Helder (Netherlands), where finishing work will be completed before it goes into service.
The "Texelstroom" is unique in many ways: its symmetrical double-ended design, its use of compressed natural gas and solar panels to make it more energy efficient, and the fact that it is the first vessel of its kind to be built at La Naval. In addition, the ferry will sport a striking state-of-the-art interior design by Dutch firm Vripack, internationally renowned for its yacht designs.
Basque firm Oliver Design was commissioned to fit out the vessel to that design. It has succeeded in meeting strict maritime transport safety regulations while at the same time offering a tough, durable finish for a vessel capable of carrying 1,750 passengers and making several runs a day. The 'Texelstroom"' is designed for continuous, very heavy passenger and vehicle transport between the Dutch port of Den Helder and Texel, the largest of the Friesian islands. Texel has a range of tourist attractions, including a nature reserve and spacious beaches. The route serviced is little over two nautical miles, and the ferry will be able to make the return trip in barely an hour.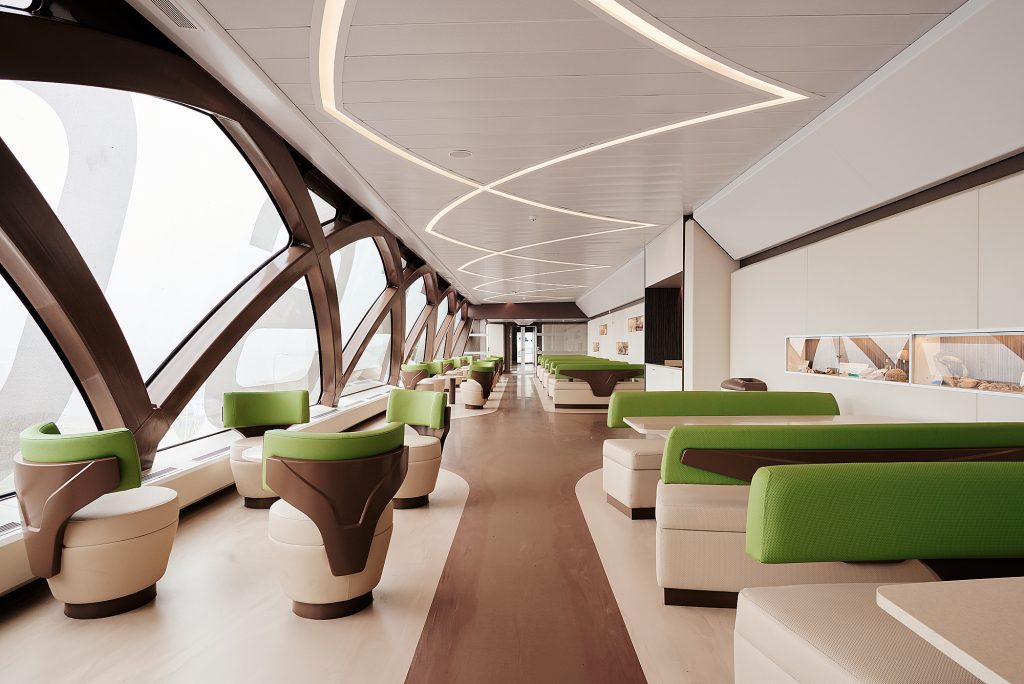 A year and a half's work
Oliver Design has devoted over a year and a half's work to adapting the passenger and crew areas, employing over one hundred staff from different specialities. The company presented its turnkey project for interior fitting-out as part of a bid submitted by La Naval, which beat a dozen other international shipyards to win the contract.
To complete the project, Oliver Design has made over a thousand construction and working drawings at its offices of Getxo (Bizkaia), for the 4,000 square metre main hall on the passenger deck, buffet and crèche areas, weather decks, service areas, the two bridges and the offices, dining area and other crew areas. Around one hundred operators were involved in the assembly work, including inhouse staff and subcontracted specialists from a range of fields.
The materials used are certified by the International Maritime Organization (IMO) and meet requirements on incombustibility, low flame propagation, fume and toxic gas emissions, soundproofing and others demanded by the classification society and the Dutch maritime authorities. Two fire curtains have been installed which, in the event of a fire, will divide the large saloon-deck into three separate zones. Measuring 2.5 metres in height and over 8 metres in length, they are among the largest fire curtains ever to be fitted in a passenger ferry.
Together with the use of materials such as fibreglass, synthetic resin, tempered glass, stainless steel and aluminium, they neatly offset the sophistication of the finish and 100% custom-built ergonomic furniture. The passenger area in particular is remarkable for its imaginative design, inspired by the animal and plant life on the island of Texel which will be served by the ferry.
In implementing Vripack's concept design, OLIVER DESIGN has had to come up with construction solutions for some very imaginative approaches. The crèche area, for example, uses a seamless resin floor with curved windows to simulate a sandy beach, including real shells gathered from the beaches of Texel. Another striking feature are the decorative panels with backlit pictures of bird life. However, the most remarkable item has to be the large tree presiding over one of the galleries. This is a Mediterranean pine, specially craft-built for this design from treated natural bark and branches, with freeze-dried leaves to ensure conservation.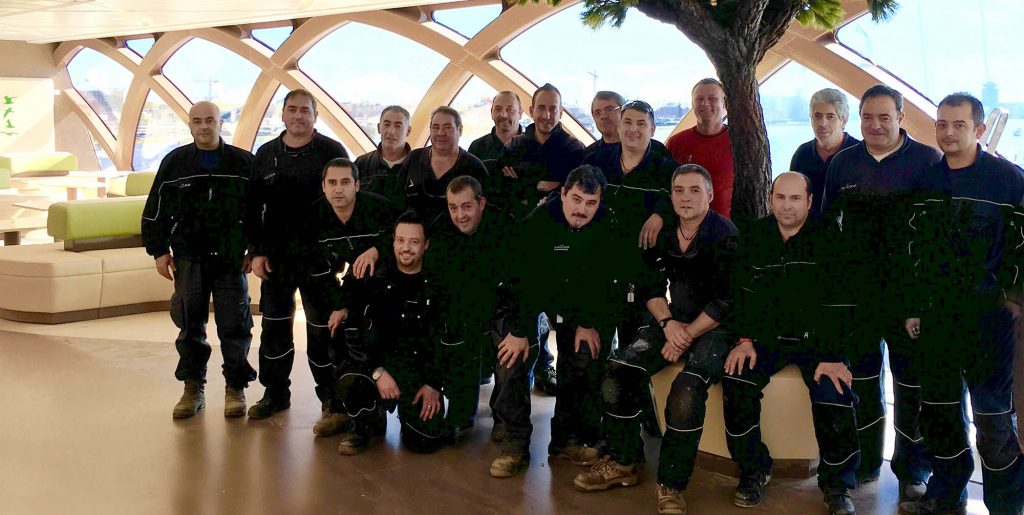 Más información: